Good Morning! Today I proudly reveal the Messy Project #15!!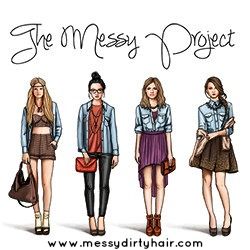 The Deal:
1 Item
5 Girls
5 Different Looks
1 Major Blog Post day
The Messy Project, to me, is more than wearing the same item as five girls & accessorizing it differently. It's also about creating & boosting self esteem. I can't tell you how much I've worried about not being able to 'fit' into the item or if my fashion taste would 'ruin the reveal' for being different. I struggle with my weight & worry that I can't wear some of the items you see plastered all over the stores & pinerest. This project was so much fun & gave me confidence to go outside my 'fashion' box!!
Once the 'item' had arrived my mind whirled with different ideas for the reveal. I'm not one to usually worry about accessories & color combinations. I'm a simple housewife that you can normally find in shorts and a tank or a simple maxi dress with flip flops. The chance to wear something I would never pick for myself & my own personality too was awesome!!!! I loved that Kelly was always available to answer question or to help you brain storm. I loved this project! I loved how it created a significant boost in confidence & it made me realize I have a hardcore Love for heels! I encourage each & everyone one of you to sign up for a future "Messy Project" & I can also guarantee you'll see me on one of these reveals again!!!
Please take a moment and check out my awesome & beautiful co-hosts reveal's too!!
&
Now to reveal & talk about the awesome item we received:
We got a beautiful Xtran lace & tulle black dress!
I think the tulle skirt was my absolute favorite part of this dress!
I left the dress exactly as it came but just added a few accessories to make it my own.
I paired this beautiful dress with:
~ a body slip from Target
~ a hot pink skinny belt from amazon.com
~ black & white polka dotted heels with a hot pink outline from DSW
~ a hot pink bubble necklace from Target